na falni po nuk mujta mi perkthy kurqysh nejse i kini do tudo muni mi downloadu
Visual Basic 6.0 Working Model Edition Portable
With the Microsoft Visual Basic 6.0 development system, you can quickly write sophisticated data-centric business applications. Integrated Visual Database Tools and a RAD environment promote productivity while native code compilation provides fast applications. Plus, get a head start on building innovative solutions based on the Windows 2000 platform
Use the Visual Basic 6.0 integrated Visual Database Tools and the Data Environment Designer to visually design Oracle and Microsoft SQL Server databases and create reusable data access queries - all without leaving the Visual Basic environment. Build server-side Web applications that are easily accessible from any browser on any platform with Visual Basic 6.0 WebClasses. Program highly interactive Web pages as easily as a Visual Basic form with the Dynamic HTML Page Designer. Gain features for team development and scalability with Microsoft Visual SourceSafe 6.0, Visual Modeler, Microsoft SQL Server 6.5 Developer Edition, Microsoft ...
Code:
http://rapidshare.com/files/36488111/Visual_Basic_6_Working_Model_Portable.rar
pass:
Code:
www.cyberwarez.info
WebcamXP PRO 2007 v3.72
WebcamXP is a powerful webcam streaming solution for private and professional use.
it offers unique features and unequaled ease of use to let you broadcast and manage up to 100 video sources per computer. It is the perfect tool to secure your goods and it's possible to manage users access like no other application on the market.
supported devices :
- all usb webcams
- all capture cards
- most ip based sources or cameras providing JPEG / MJPEG streams (Axis, Sony, Panasonic, DLink, ...)
- Windows Media © streams (asf)
- local video files (avi/mpeg)
supported streaming modes :
- still image for being watched on low-tech device
- flash client (compatible with most operating systems and handheld devices)
- javascript clients (MJPEG or JPEG PUSH)
- java clients (MJPEG or JPEG PUSH)
- Windows Media Streaming (ASF supports external WM9 profiles)
additional key features :
- local and remote pan & tilt control (Logitech Orbit, Create LiveMotion! and IP cameras).
- motion detector with many possible ways to handle alerts (local recording, ftp, http post, launch external applications)
- integrated gallery manager to store and manage your captures
- integrated chat system
- advanced users manager to grant time-limited access or expire at a fixed date and can be loaded from an external server.
- overlay editor which supports picture in picture, animated gifs, alphablending and advanced text editing.
Homepage:
Code:
http://www.webcamxp.com/
Code:
http://rapidshare.com/files/36430137/WebcamXP_Pro_2007_v3.72.440.rar
pass:
Code:
www.cyberwarez.info
WinAMP v5.35 Build 1305 Pro
Winamp is an audio player that can handle audio CDs, MP3 audio files, and streaming audio broadcasts. It combines extensive functionality with an intuitive interface. Winamp features a playlist editor and a 10-band graphic equalizer with user-definable presets that can automatically load specific files. It also includes Windows Media Technology 4.0 input/output support and the industry-standard Fraunhofer MP3 decoder. This download no longer includes VIS/DSP plug-ins, you can download them separately.
Included in this download:
WinAMP Pro v5.35 Build 1305
---WinAMP 5.x Pro + DRM Ripping Patch v1.04 -MaRKuS TH-DJM
Plugins
--Album List v2.06
--DFX Audio Enhancer v8.349 for WinAMP
--Nullsoft Musepack Decoder v1.0 Beta
--Monkeys Audio v3.9.9.0 WinAMP Plugin
--SAM Encoders DSP Plugin for Winamp v3.8.3
--WavPack Plugin v2.4 for WinAMP 3 & 5
--Winamp PowerPlayer II v2.40d
-- And the best WinAMP Skin MMD3.
Download
Code:
http://rapidshare.com/files/36283015/Winamp.Pro.v5.35.1305.By.DeViL.rar
pass:
Code:
www.cyberwarez.info
Real Player v11 New & Exclusive!!!
size:
13 MB
download:
Code:
http://rapidshare.com/files/39293522/Real_Player_v11.rar
pass:
Code:
www.cyberwarez.info
Nero v7.9.6.0 Premium Reloaded
The Latest Audio Plug-Ins & Nero 7 Clean Tool Included
Nero 7 Premium Reloaded, the world's leading digital multimedia solution, features sensational High Definition in its latest free update. The new functions make editing in High Definition format easy and enjoyable. Ready to experience crystal-clear sound and brilliant images? The latest update of Nero 7 Premium Reloaded lets you enter a world of unlimited multimedia possibilities. Quote:
Discover NEW Nero 7 Premium Reloaded, the ultimate PC and home entertainment solution, featuring 20 applications in one attractively-priced, Certified for Windows Vista™* media suite. Enjoy all your favorite songs with unlimited MP3 encoding support. Turn your mobile devices into full feature-rich portable media centers. Stay connected with free phone calls via the Internet. Burn all types of content onto CDs and DVDs in a wide range of formats including Blu-ray and HD DVD data recording. And as always, Nero offers continual free updates to keep you current with state-of-the-art digital technology!
Many more new features have been added to the applications in Nero 7 Premium Reloaded including burning support in Nero Home, VAT support that lets you use write-once and rewritable CDs like an external hard drive, professional Smart3D menu templates with unique themes, and a variety of new music mixing features with Nero SoundTrax and Nero WaveEditor.
Your own personal Hollywood movie studio.
If you've ever wanted to turn your old home videos into Hollywood quality movies, you now can with Nero 7 Premium — among many other digital media projects: create your own professional DVDs, compose beats, edit videos with transitions and menus, compress to various profiles (Mobile, Portable, Standard, Cinema and HDTV), burn a CD/DVD, design CD labels, and much more. These are just some of the ways that Nero 7 Premium can help you explore your creative side.
Save and Restore with BackItUp 2.
Backup your entire system up on spanning over several CDs/DVDs, schedule an automatic backup with Job Scheduler, drag and drop the files you want to save, create an FTP backup, or password protect your data. Whichever you choose, Nero 7 makes sure that your important files stay right where you need them.
Make your memories last a lifetime—and then some!
The days of storing your photos in huge, heavy photo albums are over. With Nero 7 Premium, you can store, manage and edit all of your digital photos with ease. In addition to that, you can turn your photos and videos into slideshows, add transitions and music, burn them to DVD, and then give them to friends and family to watch on their DVD players.
Code:
http://rapidshare.com/files/40321377/7.9.6.0.part1.rar http://rapidshare.com/files/40304924/7.9.6.0.part2.rar
AAA Logo Software V1.22
This logo design software will help you to design professional logo image for printing or the Web in minutes! Choose one of 100+ pre-made logo templates as a start point for your logo project or create a blank logo project and make your own logo from scratch. AAA Logo has it's own vector-based logo objects library with more then 2000 customizable logo elements. Exactly the same technique to create logo images using pre-designed logo elements is used by almost all professional logo designers to create logos for their clients.
This logo creation process is simple and saves your time:
1. Download and install AAA Logo - logo design software. Click Here
2. Choose logo template from library or start a blank logo
3. Add new logo objects, customize/replace objects from template
4. Customize colors and effects
5. Adjust overall logo colors
6. Export you new logo for the Web or printing !
The Easiest and Most Powerful Logo Maker Available!
More than 2000 Logo Objects
100+ Build-in Logo Templates
Code:
http://rapidshare.com/files/40187535/AAA_Logo_Software_V1.22_Full.rar
ACDSee Pro Photo Manager 9.1.0.55
ACDSee - the worlds #1 digital imaging software. ACDSee Photo Manager is a comprehensive application ideal for acquiring, organizing, viewing, enhancing and sharing your images. With the image browser, you can find, organize, and preview images and media files on your computer, and you can efficiently acquire images from digital cameras, scanners, and other devices. A full-featured image viewer and media player quickly generates high-quality displays of your images and media files. You can run slide shows, play embedded audio, and display multiple page images. ACDSee supports over 50 image and multimedia file formats. Also, ACDSee includes a wide variety of image editing tools you can use to create, edit and touch-up your digital images.
Use tools such as red-eye reduction, crop, sharpen, blur, and embos to enhance or correct your images. Image management tools, such as exposure adjustment, convert, resize, rename, and rotate, can be performed on multiple files at the same time. The new user interface is completely customizable, and provides quick access to tools and features. You can customize the screen layout, the order of images, toolbar display, and many other options to suit your preferences. ACDSee Photo Manager is a fast, powerful, and easy-to-use image management system that everyone from novices to professionals can use and enjoy.
Code:
http://rapidshare.com/files/40191696/ACDSeeProPhotoManager91.0.55.rar
Active@ UNDELETE Enterprise v5.1.021 (2.63 MB)
Active@ UNDELETE is a data recovery software used to restore accidentally deleted files and folders located on existing drives, and even on deleted/damaged partitions. Active@ UNDELETE Enterprise Edition has advanced capabilities to access and perform data recovery on remote machines, as well as supports data recovery from RAID: Spanned, Mirrored (RAID-1), Stripped (RAID-0) and RAID-5 Volumes.
As you can read on Release Notes, Enterprise Edition has superior capabilities against the normal version released by ZWT (LSoft.Active.UNDELETE.v5.1.021.Retail-ZWT). Therefor, this release shouldn't be labeled as dupe.
Complete Package
Code:
http://rapidshare.com/files/38913663/Active___UNDELETE_V5.1.rar
Adobe Reader 8.1.0 for Windows XP SP2/ Vista - Final
Free Adobe Reader® software lets you view, print, and search PDF files on a variety of devices and operating systems with faster launch time and real-time zooming and panning. You can use Adobe Reader to read, interact with, and print Portable Document Format (PDF) files generated by such applications as the Adobe Acrobat® family of products, Adobe Photoshop® Album, and more. Acrobat Reader also lets you fill in and submit PDF forms online. And when enabled by Acrobat Professional authors, you can now leverage robust commenting tools and actively participate in document reviews.
Adobe Reader 8 includes new document viewing options, advanced collaboration, increased time-saving ways to work with PDF files, and other new features to help you more securely and consistently communicate and collaborate using PDF files.
Now you can:
- Play back QuickTime (Macintosh and Windows®) as well as Macromedia® Flash™, Real, and Windows Media-formatted content (Windows only) that is embedded in an Adobe PDF file
- Read and organize high-fidelity eBooks
- Extract photos from Adobe Photoshop Album slide shows and electronic cards, and send them to online photo services for ordering prints, photo albums, greeting cards, and more (online photo services vary regionally)
- View document layers in Adobe PDF files created with layers preserved
- Print Adobe PDF files from wireless devices at locations offering the EFI PrintMe Network*
- Receive product updates easily using the enhanced Product Updater
- Plus, you can still view electronic slide shows and electronic cards created in Photoshop Album and, if the PDF file was created using Adobe Reader Extensions Server, digitally sign documents. In addition, Asian-language font support that enables you to view Adobe PDF files that contain Chinese, Japanese, and Korean download-on-demand fonts on nonnative systems is now built into Adobe Reader.
What's new in Reader 8:
- New interface, new tools, more options. Use the redesigned Adobe Reader 8 interface to select from a variety of new document viewing options. Zoom in, pan over, or leverage the loupe feature to take a closer look.
- Launch an online, real-time meeting in seconds. Select "Start Meeting" in Reader 8 to deliver online training or communicate in real time. Set up shared, server-based document reviews. Leverage the new review tracker and simple RSS reader.
- Secure existing workflows. Combine Reader 8 with Adobe LiveCycle™ Policy Server and the new Adobe Online Services Document Center. Digitally sign Adobe PDF files.
- Save time working with PDF files. Open, view, and collaborate on PDF document packages that contain Adobe PDF files and other files types. Try new markup and review tools, customizable toolbars, and combined search and find.
- Simplied deployment across your organization. Quickly manage and control Reader 8 deployments using the Adobe Customization Wizard 8, IBM® Tivoli, Microsoft® Systems Management Server, Windows® Group Policy Objects, and Active Directory.
Download:
Code:
http://rapidshare.com/files/38921237/Adobe_Reader_8.rar
Advanced JPEG Compressor v5.0
Advanced JPEG Compressor for Windows is the world's leading software for compressing digital images in JPEG format.
* Easily reduce the large file sizes of your graphic files
* Impressive file size reduction without losses in picture quality!
Smaller files take less space and up and download faster. Effectively optimize photos for faster loading from the Web and faster sending by e-mail - avoid exceeding size limits. Compress scanned documents for storage/transferal. Prepare images to meet any special size requirements
Advanced JPEG Compressor easily transforms your digital photos into any size you need.
* Resize photos to any specified dimension or file size:
thumbnails, photos for a web site, auction pictures, ads, web graphics or for job tasks. Convert images to JPEG from other formats
Save your time on processing multiple images the same way! Advanced JPEG Compressor allows you to achieve results in just a few clicks of the mouse. Create custom profiles for different batch processing tasks.
Digital camera users will benefit most from Advanced JPEG Compressor:
advanced noise removing filters, photo correction options, cropping, EXIF options, and more.
What's special ? The QUALITY. The original quality of your images is preserved as the most advanced, hi-end algorithms are used by Advanced JPEG Compressor.
Code:
http://rapidshare.com/files/38921746/Advanced_JPEG_Compressor_V5.0.rar
Alcohol 120% 1.9.6.5429 Retail
Alcohol brings a new meaning to the word multimedia! It is without a doubt a leader in its class, bringing the ability to emulate and record CDs and DVDs together into one amazingly easy to use software program.
Using the latest technology the program is constantly being developed and improved to add new features, allowing it to maintain it's position as a leading software package.
Imagine being able to store your most used CDs as images on your computer and just call them up at the click of a button! And then run them at 200x the speed of some CD drives and without requiring the CD itself! How about being able to make a backup of that CD onto another CD either using the CD itself or just using the image you have created? This is what Alcohol allows you to do and much more.
# Alcohol 120% enables you to make a duplicate back-up to recordable media of nearly all your expensive Game/Software/DVD titles, and/or an image that can be mounted and run from any one of Alcohol's virtual drives.
# No other software available enables you to create up to a staggering 31 virtual drives, allowing you to run your game images at over 200x faster than from a conventional CD-ROM. Alcohol 120% is a powerful utility that uses a unique combination of options to ensure a perfect back-up every time.
# All you need is a PC combined with a CD or a DVD burner. No more replacing your expensive original discs due to loss, theft, scratches, or other media imperfections. Your duplicate works just like the original; your entire collection can be archived and your investment protected.
# In the home: Have you had experiences with the common conditions of CDs/DVDs? They can easily get scratched, damaged, broken, lost or even stolen. Alcohol provides you with peace of mind and protects your investment.
# Your original games/program discs can be safely stored away. Alcohol-created images mean that you always have your expensive media stored safely on your hard drive for instant retrieval at the click of a button. No more searching for the correct game disc or software application install disc, everything is at your fingertips.
# You can now, for instance, simultaneously play your favourite game and bring up your route planner without having to eject and reload any physical discs, The 31 virtual drive ability of Alcohol means you can have the equivalent of a staggering 31 CD-ROM drives in your Home PC, all instantly accessible. You can simply and quickly run your Disc image at around 200 times faster than that of a conventional CD-ROM drive. If you need a program or CD it is immediately there - always ready to use!
# At the office: Program discs and many other applications generally require the original disc to be in the computer's CD-ROM drive. This restricts the amount of people in your office who can have access to the same software at the same time without the cost of additional discs. Alcohol's virtual drives resolve that problem for you. No more hunting around the offices for that elusive disc you need to run your application, everything you require is just a click away.
# With Alcohol you can store your CD images on your office server, your colleagues and employees at their respective networked workstations will never need to come asking for a CD again, they will not even require an expensive CD-ROM drive installed in their workstation PC! A simple click is all that is required for them to have full access to any disc image they require for their day to day work. Your valuable CDs can be safely kept under lock and key.
# Does your company have a promotional CD for it's customers? Original pressed discs are expensive, using the Alcohol 120% writing engine you can copy the original to inexpensive blank discs for distribution to your customers and keep your overheads down.
# Alcohol software offers unrivalled usage to people from all walks of life regardless of if you are a hardened game player, busy school teacher, salesman, IT manager, student etc. Alcohol has a niche in all your everyday computer needs. Let Alcohol help you to help yourselves and give you the peace of mind you deserve when it comes to expensive PC media.
# Do not have a CD/DVD writer? No problem, Alcohol 52%* is the answer, with all the power and technological advantages of Alcohol 120%. Alcohol 52% is ideally suited for Laptop use (no need to take your expensive discs along to a meeting where they can become misplaced). Ideal for school/office environments where access to an image file by workstation users would be an advantage.
download:
Code:
http://rapidshare.com/files/38923202/Alcohol_120__1.9.5.2802.rar
Anim-FX v3.3
Create Flash intros , Flash banners , and text effects with Flash templates from Anim-FX for your web site - fast and easy. Anim-FX is a very compact Flash tool based on a wide range of Flash templates. The unique thing about Anim-FX Flash intro and banner builder is that the positioning of the text and the number of text lines is flexible.
Features:
Multiline Flash animations
Flash animation templates
Unlimited character input
Jump to URL on click
Jump to URL on end of Flash animation
Loop/no loop, choose no. of loops
Define size of text
Target Frame
Define color of text
Define X & Y position of text
Define background color
Flash animations are easy to update
Small file sizes
Sound effects
Sound volume
Freeze end frame
Change Flash animation dimensions to any size
Excellent customer support
Free upgrades
Compatible with Flash 5 and Flash MX
Compatible with HTML/Dreamweaver/Frontpage/Coolpage/ and any other html editors
download:
Code:
http://rapidshare.com/files/40168020/Anim-FX_3.3.rar
AoA Audio Extractor
With AoA Audio Extractor, you can easily extract audio tracks from AVI, MPEG, MPG, FLV (Flash Video), DAT, WMV, MOV, MP4, 3GP video files and save them as MP3, WAV and AC3 formats.
It can also be used to save any portion of the audio of a video file.
Main Features:
- Convert AVI, MPEG, MPG, DAT, FLV (Flash Video), WMV/ASF, MOV, MP4, 3GP to MP3
- Convert AVI, MPEG, MPG, DAT, FLV (Flash Video), WMV/ASF, MOV, MP4, 3GP to WAV
- Convert AVI, MPEG, MPG, DAT, FLV (Flash Video), WMV/ASF, MOV, MP4, 3GP to AC3
- Batch conversion support.
- Ability to save any portion of the audio of a video file.
Code:
http://rapidshare.com/files/38924320/AOA_Audio_Extractor.rar
AOA DVD Ripper
AoA DVD RIPPER provides a fast and easy way to convert your DVD movies or just the parts of the movie that you want. It copies in high quality AVI (DivX, XviD...), MPEG (MPEG-1, MPEG-2), WMV, 3GP, MP4, Flash Video (*.flv), VCD and SVCD formats. It also extracts audio tracks from DVD movies (to WAV).
With AoA DVD RIPPER, you can take your DVDs on the plane, train or automobile, watch them on your computer, laptop or the following pocket devices on vacation, at work or at school!
More Easy Settings You Can Customize...
* Specify different output format for each task.
* Rename output movie title.
* Remove unwanted subtitles and audio tracks.
* Make the output size fit in a 74-Minute/80-Minute CD.
* Play back while ripping, so that you can see which part of the movie is being processed.
* Disable audio.
* Automatically shut down the computer when done.
Code:
http://rapidshare.com/files/38947129/AOA_DVD_ripper.rar
AoA DVD Creator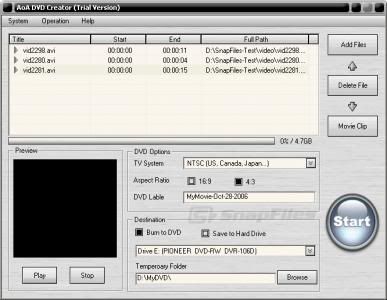 AoA DVD Creator provides you a handy tool to create and burn your movies (AVI, MPEG, DAT, FLV, MPG, WMV, ASF, MP4, 3GP, MOV) into DVDs that you can watch in your home DVD player.
AoA DVD Creator enablers you to create DVDs from most popular video file formats. The program automatically converts the video file to the proper DVD format and burns the DVD disk for you, all in a single process. All you have to do is add the files to be included (they will be merged to a continuous movie), select NTSC or PAL output and set a DVD label text. AoA DVD Creator supports AVI (DivX/XviD), WMV/ASF, MP4, 3GP, MPEG/MPG, DAT and MOV formats. The output can be burned directly to DVD or saved to your hard drive
Code:
http://rapidshare.com/files/38926564/AoA_DVD_Creator.rar
Aoa dvd copy
With AoA DVD COPY, you own the most efficient way to create backup copies of your DVD movie collection. These working copies allow you to play your DVDs on home and computer DVD players every day without the inevitable risk of getting your originals scratched or damaged. You get disc protection with no loss of playback quality.
Code:
http://rapidshare.com/files/38924866/AoA_DVD_copie.rar
AquaReal 3D Aquarium Screensaver
AquaReal 1.5.1 Full Version
Size: 8.3 MB
Quote:
24 Species of Marine Tropical Fish
● Extra Bonus Fishes and Aquariums
● 3D Lifelike Marine Fish Behaviors
● Most Advanced Fish Biomechanics
● Artificial Intelligence Fish Brain
● Dynamic 3D Aquarium Wallpaper
● Real-time Collision Detection
● Real-time 3D Morphing
● Adjustable Aquarium Lighting and Bubble Forms
Code:
http://rapidshare.com/files/38929379/AquaReal_3D_Aquarium_Screensaver.rar
Ashampoo Burning Studio
Choose Format. Select Files. Burn Disc.
Since its initial release, Ashampoo Burning Studio has changed the way CD/DVD/Blu-ray burning software works. Instead of spending frustrating hours learning how to use hundreds of complicated functions you just select a task – for example "Burn Files", "Backup Files" or "Burn Movies" – and then the program guides you through all the necessary steps.
You just choose your format, select your files and burn your disc. It really is that easy, but easy doesn't mean you get less functionality: Advanced burning functions are also available for experienced users who want to choose specific file systems or use special boot images.
New functions and improvements in version 7
Ashampoo Burning Studio 7 keeps the power and simplicity that made version 6 such a runaway success and adds several major new functions, including DVD video burning, modified copies and bootable discs. These are all functions that users of previous versions have asked for and they make a great program even better.
Video DVDs
Turning your video files into DVDs that you can play on any DVD player has never been this easy. You just select the files you want to include on the disc, select your navigation menu format and burn. All common video formats are supported (WMV, AVI, MPEG, ASF etc.), the program converts them automatically.
Building DVD menus is usually complicated and hard work. In Ashampoo Burning Studio 7 you just select your menu style and the program does all the work, generating the menus and navigation elements automatically. You can choose from several cool animated and static menu styles and preview everything before burning your disc.
You can also burn standard DVD files (VIDEO_TS folders containing .VOB, .IFO and .BUP files) – for example for making backups of existing DVDs or for burning DVD files generated with a different authoring program.
Have you ever wished you could pack more video onto a single DVD? Ashampoo Burning Studio 7 allows you to create DVDs with much more than the standard 120 minutes of video – just add all the files you need, the program automatically adjusts the compression and encoding quality to make it fit.
Modified Copies and Bootable Discs
Now you can include additional files in a copied disc without re-building the entire disc. The unique new Modified Copy function allows you to select additional files and folders that will be inserted into the copy on the fly when you burn the disc.
You can also make modified copies of bootable discs. This makes it much easier to create updated versions of bootable installation discs because you don't have to go through all the steps of building the disc – everything you need, including the boot image, is already there. The Modified Copy function supports CDs, DVDs and Blu-ray discs.
New Functions for Experienced Users
Experienced users can now also build their own bootable discs by importing a boot image. In addition to this you can also choose the file system you want to use for data discs and generate it directly. Supported file system options include ISO 9660 levels 1 and 2, ISO 9660 Windows (Romeo), Joliet and UDF (1.02, 1.5, 2.50, 2.60).
Backup and Restore
Several key improvements have been added to the file backup and restore functions. You can now specify the exact size of the individual backup files for multi-file backups – for example if you want to store the backup files on a hard disk instead of burning them directly. (When you burn to CD, DVD or Blu-ray you can still split files automatically to fit on each disc.) When you restore files from backups you can now choose the individual files and folders you want to restore instead of just restoring everything.
Audio CD Ripping
The audio ripping function now also includes an integrated, MP3 encoder so that you can rip directly to MP3 as well as to WMA or lossless WAV. Album and track names are automatically retrieved from the Internet database on the fly when you insert an audio CD.
Features at a glance
What's new:
* Video: Burn Video DVDs directly from almost any video files
* Modified and Bootable Copies: Add additional files while copying discs, make modified copies of bootable discs
* MP3 Ripping: Rip audio CDs directly to MP3 as well as WMA or WAV
* Backup and Restore: Choose archive size, restore individual files
* Expert Functions: Create bootable discs from boot images, choose file system settings
Other functions:
* Burn files and folders to CD/DVD/Blu-ray and add files and folders to existing discs
* Multi-disc file backup and restore on CD/DVD/Blu-ray with compression and password protection
* Create VideoCDs and Super VideoCDs
* Rip music from audio CDs to MP3, WMA and WAV files
* Create audio CDs from WAV, MP3, FLAC, WMA and Ogg Vorbis files
* Create MP3 or WMA CDs, DVDs and Blu-ray discs or just copy music to CD, DVD or Blu-ray
* Copy CDs, DVDs and Blu-ray discs
* Create and burn disc images for CD, DVD and Blu-ray
* Quickly erase any rewritable media
* Store disc images larger than 2GB on FAT32 file systems
* Interactive troubleshooting assistant for solving hardware and media problems
* Save project files so that you can burn the same discs again later
* Integrated support for over 1,700 CD, DVD and Blu-ray burners
Code:
http://rapidshare.com/files/38935125/Ashampoo_Burning_Studio_6.5.rar
Ashampoo Magical Defrag v2.08
You probably have better things to do than worry about whether the hard disks on your Windows® computer are getting fragmented. Just install Ashampoo Magical Defrag 2. This radically improved program keeps all your computer's hard disks defragmented. Permanently.
Just install it and forget it. Your hard disks will never get fragmented again. And Ashampoo Magical Defrag 2 does this without slowing down your computer or interfering with your work.
New features:
Fragmentation Protection: Ashampoo Magical Defrag 2 uses advanced new software technology to prevent disk fragmentation. You no longer have to worry about defragmenting your disks because the program keeps them defragmented for you. It's that simple.
Powerful new algorithm: The new defragmentation algorithm introduced in this version is much more efficient and powerful. It uses intelligent analysis to achieve significantly better results in significantly less time.
Dynamic graphical display: If you want to watch the program in action you can turn on a dynamic drive map display that shows the fragmentation of your disk and how Ashampoo Magical Defrag 2 is doing its work.
No-configuration operation: Ashampoo Magical Defrag 2 is even easier to use than its predecessor. There is nothing to configure. Just install it and forget it – and forget about problems with fragmented disks as well.
Download:
Code:
http://rapidshare.com/files/38937637/Ashampoo_Magical_Defrag_2.08.rar
Ashampoo Movie Shrink & Burn 2
Compress video files and burn them to CD! Ashampoo Movie Shrink & Burn 2 is the ideal solution for: - Movies that you want to watch with your DVD-Player or your PDA/Handheld PC - Movies that don't fit on one CD - Movie trailers - Recordings of TV series - Holiday movies made with your digital camcorder - Archiving recordings from your surveillance camera - And much more...
Features:
Convert and compress your existing movie files into a selection of formats that can be played on PDAs and/or Handhelds!
Formats for home DVD players are also available!
Burn your movie files to CDs (supports Video CDs, Super Video CDs, DivX/Xvid CDs and normal file CDs)!
Let the program automatically split your movies to multiple CDs if they are too big!
Supports XVid/DivX AVIs, MPEG-1, MPEG-2, QuickTime, WMV, Video CDs, Super Video CDs, DivX/Xvid CDs!
Convert/shrink unencrypted VOB files into smaller high-quality